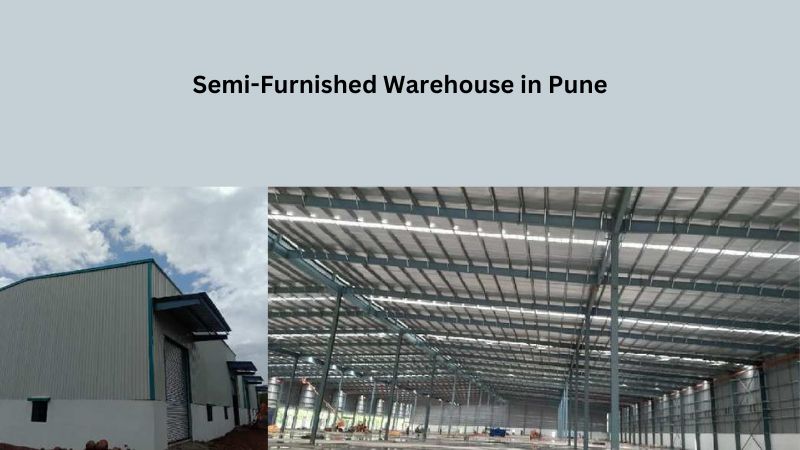 Efficiency and agility are crucial for organizations to succeed in the area of storage and logistics. Semi-Furnished Warehouse in Pune has become a popular option for businesses trying to streamline their operations. It is prevalent when it comes to storage solutions.
These adaptable facilities provide several benefits that address the changing demands of enterprises. They combine the advantages of both fully furnished and empty warehouses. We shall go into the idea of semi-furnished warehouses and the advantages they offer in this piece.
Flexibility and Personalization:
The adaptability of semi-furnished warehouses is one of their main benefits. These areas offer a compromise between entirely vacant warehouses and those that are fully furnished with furniture and fittings. Because of this, businesses are allowed to alter the area to suit their own needs.
Semi-furnished warehouses enable quick and simple adaptations to fit various product kinds, sizes, and storage demands. It is applicable whether it be more shelving, racks, or specialized layout tweaks.
Cost-Effectiveness:
Semi Furnished warehouses are significantly less expensive than fully furnished ones. Businesses may save on the upfront costs related to setting up a furnished area. They do this by providing basic security measures, lighting, HVAC systems, and other infrastructure necessities.
Cost-effectiveness enables businesses to invest in other important areas of their operations and allocate resources more effectively.
Time Savings:
Businesses may find a quick fix in semi-furnished warehouses. It might take some time to set up a completely outfitted warehouse from the beginning. This process includes steps like locating equipment, installing it, and setting up utilities.
In contrast, semi-furnished warehouses offer the required infrastructure, drastically cutting down on setup time. Companies may move in immediately and begin using the space for their storage needs. This saves time and allows them to swiftly concentrate on their main activities.
Flexibility And Scalability
Due to seasonal demand, market trends, or other causes, businesses may see swings in their storage needs. The benefit of scalability and flexibility to adjust to changing demands is provided by semi-furnished warehouses.
Companies may adjust the space and add more storage options as needed. It allows them to increase or decrease their storage capacity. This versatility enables companies to quickly respond to market changes without incurring extra costs or space restrictions.
Lower Maintenance Costs:
A properly equipped warehouse can be difficult to maintain and frequently needs maintenance and repairs. By offering necessary infrastructure components, semi-furnished warehouses ease this load by minimizing the maintenance duties for enterprises.
With the foundational technologies in place, businesses don't have to bother about maintaining the warehouse itself. Instead, they can concentrate on managing their inventory and streamlining their operations.
Rapid Launch for New Ventures:
Semi-furnished warehouses are the perfect option for start-ups or companies entering new markets. These areas offer a ready-to-use infrastructure that enables companies to quickly start up.
Entrepreneurs may lower their initial costs and launch their firms quickly. They can do this by setting up a completely equipped warehouse.
Conclusion:
Businesses looking for flexible storage solutions might find a practical and effective answer in semi-furnished warehouses. These rooms can adapt to the constantly changing requirements of contemporary commerce because of their adaptability, cost-effectiveness, and customisation options.
They are a desirable option for businesses looking to optimize their storage operations due to the advantages of decreased setup time, scalability, and maintenance. Semi-furnished warehouses are positioned to play a critical role. They satisfy the expectations of businesses looking for effective storage solutions as the logistics market continues to change.