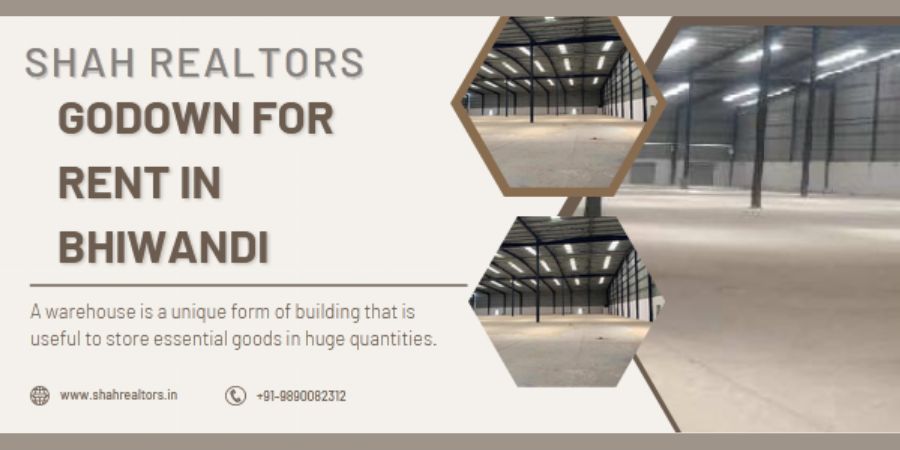 A warehouse is a unique form of building that is useful to store essential goods in huge quantities. Manufacturers, exporters, importers, businessmen, customers, and wholesalers use warehouses.
A warehouse may be a large plain building in various industrial parks situated in industrial parks, towns, and cities. Warehouses have huge loading capacity. Mainly warehouse is designed to load and unload multiple goods directly from the airports, seaports, and railways.
Functions of Warehouse
A warehouse is helpful for various applications such as follows-
1. Storage of goods is one of the most valuable functions of a warehouse. It is useful to store essential equipment and inventory. A warehouse can prevent the wastage of stocks and ensure the protection and safety of the stock. Warehouse & godown for rent in Bhiwandi is cost-effective.
2. A warehouse can safeguard the goods from theft, damage, and loss due to various un-circumstances such as moisture, wind, heat, and dust. In addition, a warehouse is useful for a particular arrangement, such as it can store the goods in cold storage.
3. The movement of goods becomes easy with the help of a warehouse. Unloading of goods becomes easy with the help of a warehouse. A warehouse is also useful to transfer the storage of goods from the inbound area.
4. Financing is another diverse function of the warehouse. It can help the manufacturers, wholesalers, and the exporter significantly.
Value-added Services of Warehouse
Value-added service is an essential part of the warehouse. This service helps the optimised supply chain management generate higher value and easily deliver the products to customers. Godown for rent in Bhiwandi include bundling, customization, re-packaging, processing, and customisation.
1. Processing refers to the customisation of several goods to make them consumable. Ripening of fruits, processing of coffee beans, polishing of paddy, and seasoning of timber are important examples of this segment.
2. Grading and branding are other valuable segments of the warehouse. In this warehouse segment, manufacturers blend or mix the goods before packaging.
3. Kitting goods is another valuable part of warehouse storing. In this segment, manufacturers use flexible bundles to make customised products.
Process of Renting a Warehouse
One should determine the following steps while considering the Godown for rent in Bhiwandi-
1. Determination of the commercial space needs is the primary thing that a manufacturer or importer should consider. In addition, the manufacturer should consider the warehouse space and manufacturing space for storing different items at this stage.
2. Locating the right commercial and industrial property per the monthly rental budget is essential for the exporter or manufacturer.
3. After considering the above two factors, the manufacturers should visit the commercial property to understand the requirement of the potential problems while storing the goods. Square footage, different costs and expenses, and the least price are important to consider.
From the above information, a manufacturer or exporter can understand the proper process of renting a warehouse for various business purposes and storing functional ingredients and goods.